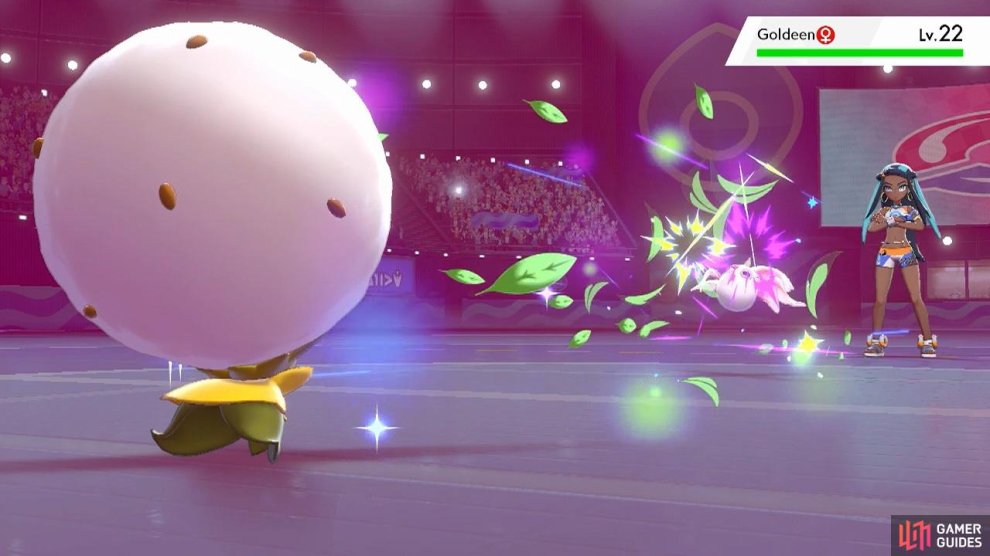 Pokémon battles are a crucial element of the series. No matter which way you turn, a battle's never too far away. Whether it's a wild Pokémon determined to protect its turf or a fellow Pokémon trainer who's keen to prove their superiority, you'll need to learn to defend yourself, lest you be chewed alive. Thankfully, your Pokémon pals are happy to put up a good fight!
Battle Flow
It doesn't matter if your foe is a trainer or wild Pokémon; the mechanics are the same. When a battle begins, you and the opposing trainer (if there is one) will each send out one Pokémon. In your case, you'll automatically send out the first Pokémon in your party–the one in the top-most position. But if that Pokémon has fainted, you'll send out the next available one.
Battles in Pokémon are turn-based. Each turn, you and your opponent must select an action to perform. You've got all the time in the world, so don't rush and carefully consider your options. However, during multiplayer battles, there will be a time limit in place. Although when you reach that stage, you should have plentiful battling experience under your belt!
Battle Options
During a battle, the following options will be available to you:
Fight: This will bring up your current Pokémon's moves. Each Pokémon can learn up to 4 moves; the number next to a move (its PP value) indicates how many times it can be used. If you're unsure about what a move does, you can press the Y Button to view its description.

Pokémon: Choose this to view your Pokémon party. From here, you can check the stats of your Pokémon or switch out your current Pokémon for a new one. If your current Pokémon has taken heavy damage or is at a disadvantage, switching may be beneficial. But keep in mind that your opponent will get a free turn.

Bag: This lets you open your bag to use healing or battle-related items. If your Pokémon has taken a beating or is suffering from a debilitating status condition, you may want to fix them up. Likewise, you could use battle items to give your Pokémon an edge in battle. Just make sure the coast is clear!

Run: If things are looking bad, escape is a valid tactic. Like they say, live to fight another day! That said, you can't run from battles with NPC trainers or Max Raid Battles–only wild battles and multiplayer battles. Also, if your Pokémon's Speed is too low, your escape attempt may fail.
Battle Outcomes
After both sides have selected an action, the Pokémon with the higher Speed stat will generally go first, followed by the remaining Pokémon. However, some moves like Quick Attack have increased priority, so be cautious–especially when your Pokémon are at low HP. If switching or using an item, that action will always have priority over a Pokémon's moves.
If a Pokémon is hit by a move, their HP may decrease. Once a Pokémon's HP falls to 0, it will faint and be removed from battle. During a trainer battle, the owner of a fainted Pokémon will need to send out another Pokémon from their party; if they have no more, they lose the battle. Meanwhile, when a wild Pokémon is defeated (or captured), the battle immediately ends.
When you knock out (KO) or capture a Pokémon, all of your Pokémon will earn experience points, although Pokémon that didn't contribute to the fight will earn less. Once a Pokémon has gained enough experience, they will Level Up, increasing their stats. Additionally, they may learn new moves or even evolve into a stronger form. Defeating a trainer will also reward you with money.
Game Over?
Nobody wants to lose, but if all of your Pokémon are defeated, don't panic! You'll be transported back to the last Pokémon Centre that you visited, albeit with some of your pocket money gone. More importantly, you'll retain all of your game progress. So chin up and get ready for that rematch!
This only applies to battles against NPC trainers during the main campaign and wild battles. Nothing will happen if you lose in multiplayer battles, Max Raid Battles or battles in the Battle Tower (except maybe some hurt pride).