5th Floor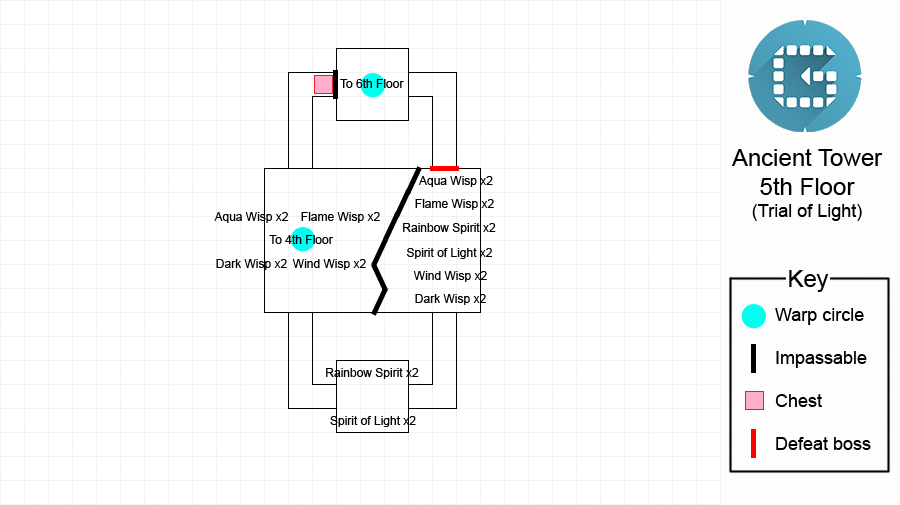 You're in for a rude awakening when you step into this floor as you're immediately surrounded by eight elemental wisps. As soon as you can, either run north or south to avoid getting ganged up and then slowly pick off the wisps one at a time.
If you're a Magician or Hunter, you can hide behind the stairs to the south and watch as most of the wisp's attacks fly over your head. But if you're a Mercenary or Paladin, good luck; having high elemental resistance will help alleviate the pain.
That or you can just leave the battlefield altogther, if you think a battle is unwise. After travelling through the south passage, you will face ten wisps and spirits on the other side of the giant crack--these, you must defeat to advance.
Like before, if you're a ranged attacker, you can use the stairs leading up as cover. Meanwhile, if you're a melee attacker, use hit-and-run tactics to slowly whittle down the wisps and spirits.
For characters with low Magic Defence and elemental resistance, this floor can be tougher than some boss fights... but do your best to hang in there!
6th Floor
Finally there's a bounty clerk here. Valuable bounties to cash in include the Jellqueen (3rd floor) and Crabby Paladin (4th floor), plus the ones you're about to pick up on this floor.
When you reach the centre, you'll be forced to clash blades with a trio of Divine Guardians . These iron-clad knights are formidable in a group, since it's extra difficult to evade their slice and dice move.
It's a bit cowardly, but don't hesitate to fall back and lure the guardians one by one, as best as you can anyway. If you can slay these mini-bosses individually, you'll have an easier time recovering their bounties too.
7th Floor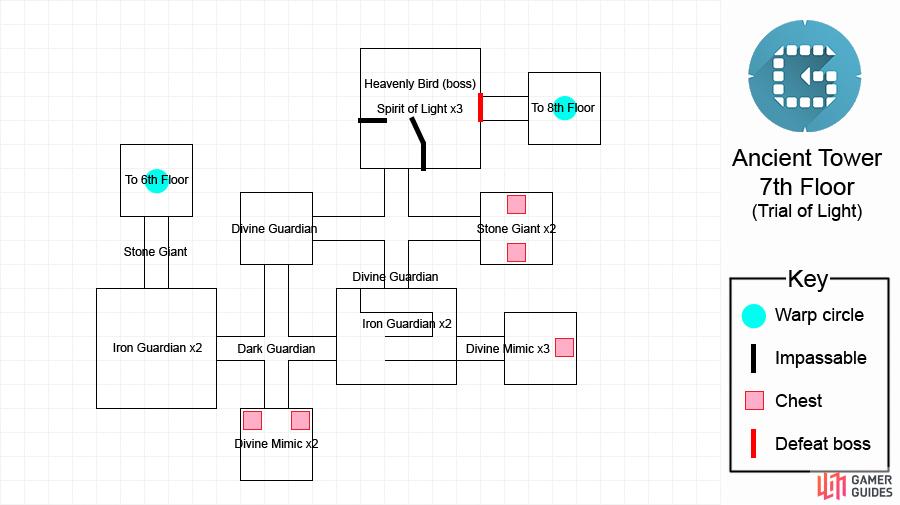 We're making good progess here!
This floor isn't half-bad, if you take your time. Most of the enemies are slow, although you'll need to pay extra attention when you're fighting in the narrow corridors.
To reach the next floor fast, keep moving in a north-easterly direction at the earliest opportunity. But if you're looking for treasure, follow the corridors south-east instead.
In the north-east corner, you must take down a Heavenly Bird to advance. To avoid repeating information, you can find the boss strategies in the Hunter's God-in-Training page in the Life Walkthrough.
8th Floor
The boss of this outdoor floor is the imposing Heavy Guardian , a bigger version of the Divine Guardians and their ilk.
This fella only has two attacks--both the same as a Divine Guardian. However, to spice things up, during his furious slicing and dicing, he'll also shoot a sword wave ahead to cause extra damage. Not that you'll have time to notice amidst the mayhem...
Note : The Heavy Guardian leaves behind a unique bounty containing a rare Protection Stone+ . However the next bounty clerk is a long ways ahead, so you may wish to drag the bounty back to the 6th floor to cash it in.