**Location** : North wing
**Level requirement** : 100+
**Number of floors** : 12
1st Floor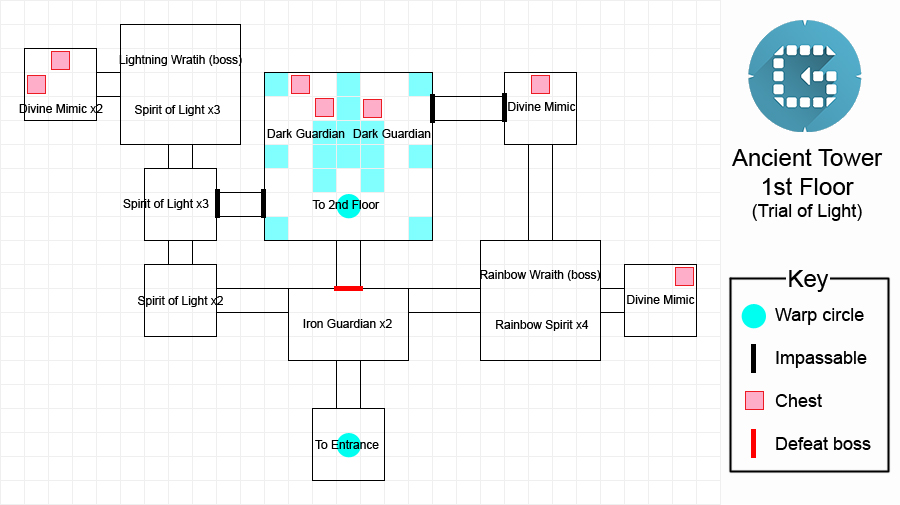 The final trial opens with a challenging floor right off the bat. To advance, you must defeat both the Lightning Wraith and Rainbow Wraith , found by following the eastern and western branches of the map.
If you're a high Rank Magician, you may have fought the Lightning Wraith and/or Rainbow Wraith earlier; the ones here fight exactly the same, but have increased HP and attack power.
Either way, both bosses have similar attack patterns and therefore can be tackled in a similar manner. To begin with, focus on removing the weaker spirits from the battlefield so you can concentrate all your efforts on the boss itself.
Both bosses like to surprise you with a single wing slap or triple wing slap, which can be easily avoided if you stay far away (easy for Hunters or Magicians) or keep circling.
If the Wraith pulls back and charges up power, it will dash forward to attack. The Rainbow Wraith has an unique attack, where it charges up power while stationary and then radiates a shimmer of light around it.
Around the half HP mark, instead of using its dash attack, the Wraith may unleash a rapid volley of air slashes forward. Basically, whenever you see the Wraith charging up power, get ready to move back or dodge.
2nd Floor
In this outdoor map, you must defeat a pair of Dark Guardians to proceed. These dark knights are slow and clunky and pose little threat.
But because there are two closeby, be careful not to get ganged up. If possible, lure them one at a time or let your allies distract the other one.
3rd Floor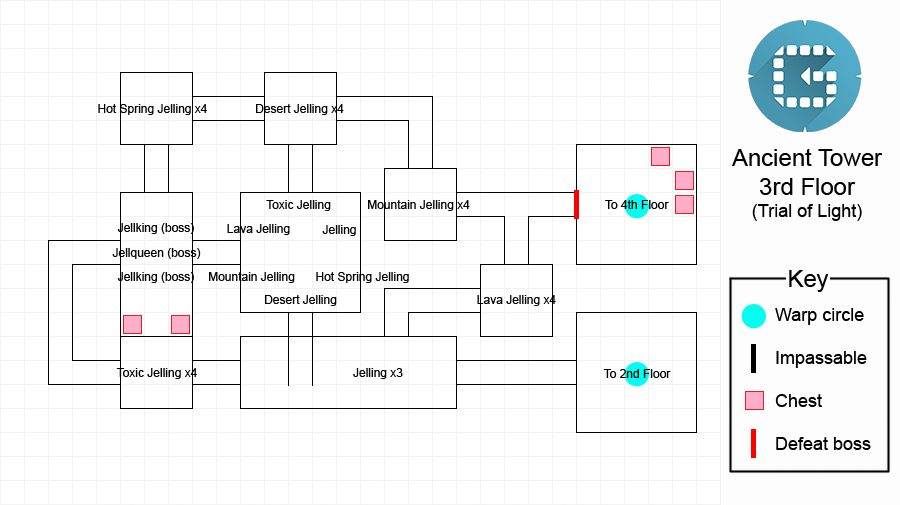 This interesting floor is filled with jelly monsters from all over the world. To open the way to the next floor, you must defeat the Jellqueen , who's also accompanied by two equally mean Jellkings.
There isn't much strategy to discuss, beyond the usual circling techniques to avoid attacks and finding a way to tackle the bosses one at a time.
If anything, the regular jellings can be tougher to fight because of their numbers, which they will gleefully take advantage of. Definitely don't underestimate these gooey, little buggers.
4th Floor
The boss of this outdoor floor is a Crabby Paladin and its three Crabby Knights.
The Crabby Knights are annoying by themselves, so make sure you make mincemeat of them first before they continuously poke at your HP meter throughout the battle.
As for the Crabby Paladin itself, it only has two attacks, but that's more than enough to send you reeling. Its standard attack is a quick swipe with its claws, which boasts a fairly decent range; coupled with the small arena, it's pretty hard to dodge.
For its special move, it will pause and shake violently, before unleashing a rapid volley of air slashes forward. If possible, never let the Crabby Paladin face you so you don't have to take the brunt of this highly-damaging attack.