Head forward into the forest. Trudge forward and before long you'll meet a group of Treants.
Enemy Analysis: Treant
The Treant is particularly weak against corrosive acid. These hulking beasts will plod towards you and use their huge branches to try and smush you into the ground. They also have a ranged attack that will require some dodging (or soaking up). The small, stumpy enemies pose minimal threat.
Enemy Analysis: Pixie
In this area Pixies will start to orbit you. They start out neautral, but will turn nasty given enough time. When they do start to attack they use a number of powerful ranged blasts, focusing lightning on you and other such nasty things. Best dealt with when you're alone with the pixie, rather than giving them time to turn when you're trying to deal with something else.
Follow the path to the right. You'll be offered an optional objective to investigate a side road, this aside gives you some entertaining dialog with the players as well as a tasty weapons crate next to the cottage.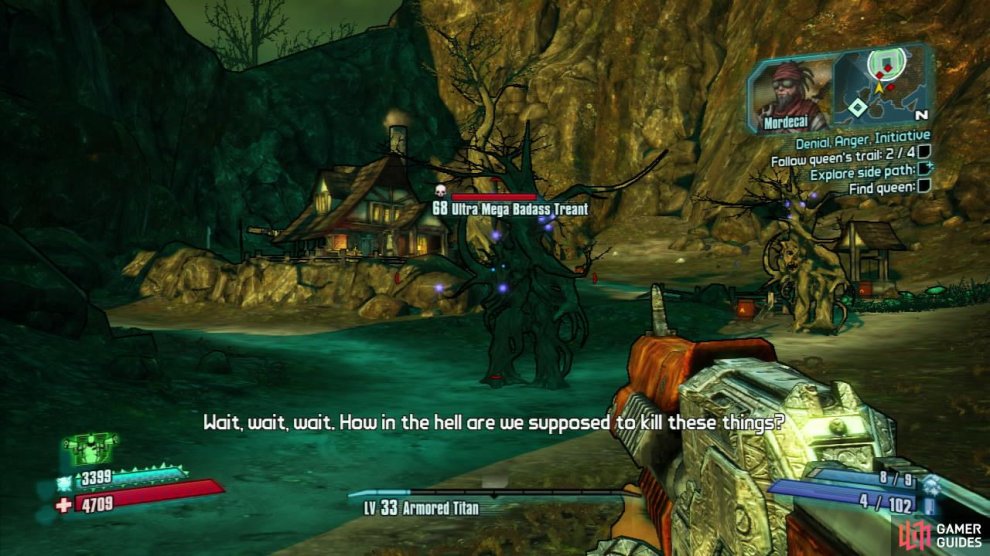 Continue around the path and you'll soon catch up to Davlin, who will set you on a scavenger hunt for some fruit. This will take you to the South West, through an Orc Encampment.
Enemy Analysis: Orcs
Orcs appear brutish, but are largely derivative of bandits, coming in melee and berserker forms. Shotguns make short work of orcs due to their large surface area being the perfect target for the spread of a shotgun, as not a single bullet will miss.
Continue heading south and wade through the icky red pond towards the waypoint, and grab the fruit. Oh look! It was a Treant! Nothing special about this enemy, either grab the fruit while it's alive of blast it and grab them from its corpse. Either way claim your fruity keys and head back up to Davlin to open the door. Head on through.
Through here you'll spot a party of adventurers on the path, either engage them or let them past.
Enemy Analysis: Knights
The knights may carry shields, but the basic breed do not use them as defences in the same fashion as the Hammerlock Scavenges. Larger knights will defend themselves, but basic Knights are best run away from while pumping them with lead.
Continue running south, following the waypoints and dealing with aggression that rears its head until you catch up to Davlin in a dead end. You need to find the White Knight.
While the waypoint is to the east we actually need to run south and then bend to the east to come at the waypoint from beneath it.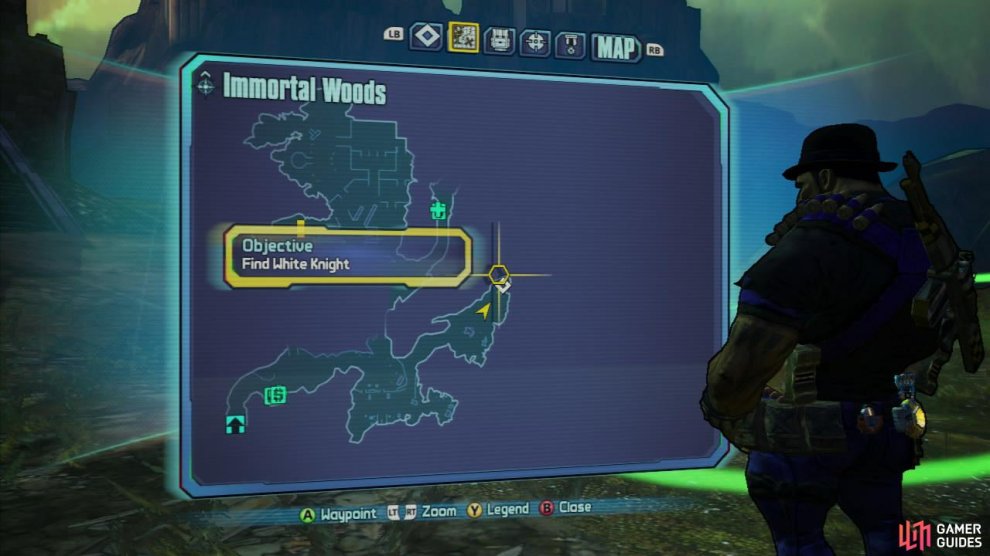 Enemy Analysis: Dragons
What's a fantasy adventure without dragons? These flying foes are annoying, plain and simple. They don't land, they simple circle you, attacking from the sky and forcing you to really exercise your trigger finger. Remember to lead your target, and do try to keep moving whenever the dragon circles around to look at you.
Deal with the dragons and then follow Roland all the way to where the queen is. Or where the queen is supposed to be. Turns out she isn't, and you have to fight four ghost kings instead. This is a very simple arena fight, involving you leading the kings and their minions on a ring-a-ring-a-rosie around the tree. Remember to pull swords from immortal enemies corpses, and just keep going at the enemies till they all fall down.