For this mission make sure you're equipped with your best savage killing technology. Flame weapons, make 'em shotguns and rifles, and get a move on. Run to the East towards the waypoint and then pass through into Candlerakk's Crag.
See that skeleton ahead? Impressive, no? None of our concern though. Turn right and follow the cliff, dealing with savages the entire way. Do tackle savages as you meet them, don't try and run past.
Eventually, after much killing, you'll come to the Elite's Crossing. This bridge will see Badass Savages spawning on both sides of you, and we need to kill them. Playing solo you're advised to trigger the scene and then retreat a bit down the path, trying to funnel your foes so that they're all in front of you. The New-U machine is fairly close by, so don't fear death.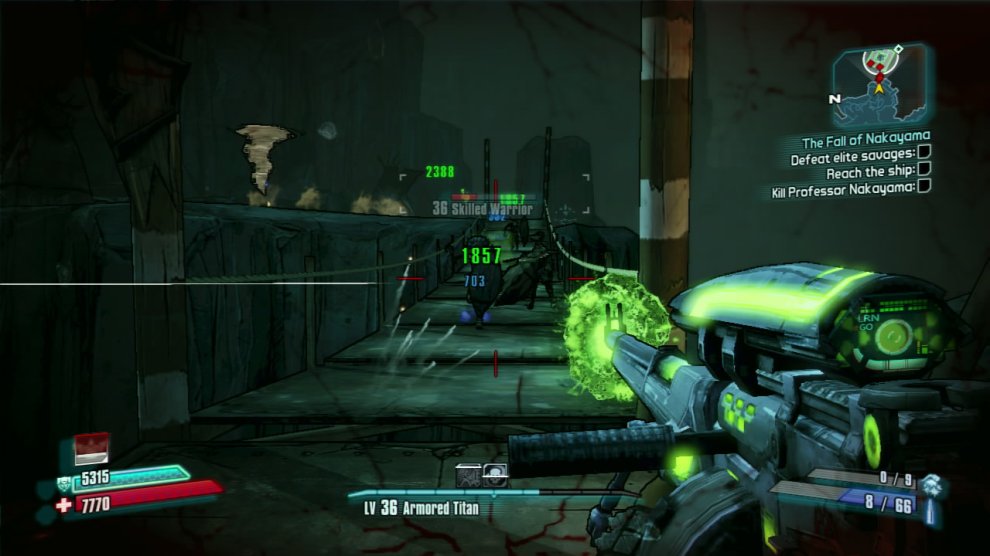 With them dead, continue to follow the linear path. When you reach the objective 'extend the bridge, we need only shoot the lever on the opposite side. Savages will charge at you when you cross, mind, and this objective was more of a lesson. If you don't want to tackle the savages head on (therre are quite a few of them) then pull them back, and shoot the level to drop them through the now ex-bridge. Au revoir!
Almost there. When you get to the wall puzzle ClapTrap will read out the solution, simply turn the cranks until the antenna is pointing at the right number, reading from left to right. Enter the door and hang a right through the crawl space.
Boss – Jackenstein
This hulking monstrosity is strong, but dumb. He will charge at you, and try to hurl scenery at you. He is easy, however, because damage he sustains carries over. Aim to destroy the tubes on his back before anything else. Soon loaders will start to fill the area, so deal with them. After you destroy the Jackenstein's back tubes you need to refocus attention on his big blue, glowing weak spot and he'll die very quickly. Just remember, if you die the tubes remain destroyed, meaning this boss is very, very easy to kill.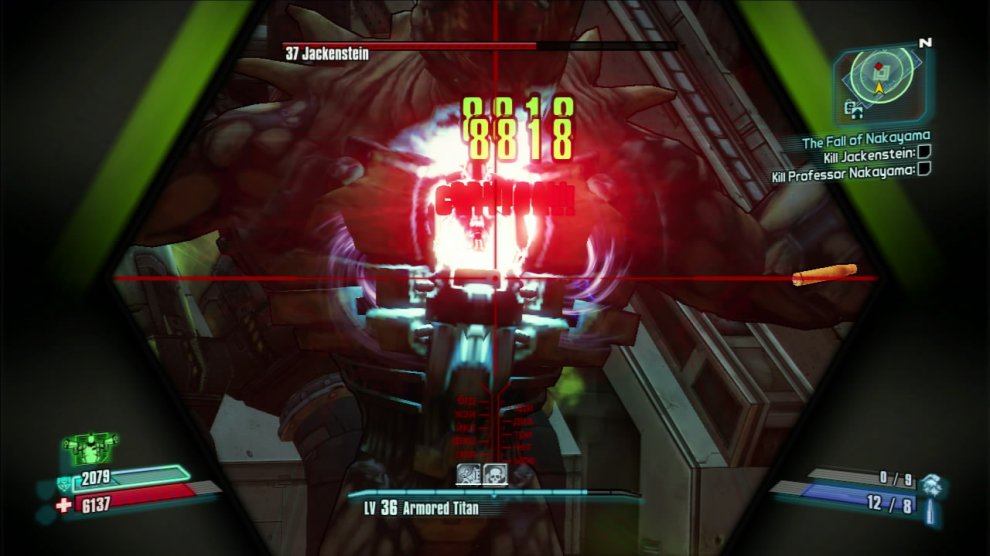 Boss – Nakayama
Well, the mission name turned out to be quite literal, didn't it?
And that is it for the story of this DLC. Not that you're done, side-quests are a-calling and in this DLC, they're almost the main attraction, so let's go a-hunting...