| Level | Rewards |
| --- | --- |
| 15 | 3500 XP, $49, Relic |
Meet up with Roland back at Sanctuary, who tells you that the Vault that Jack is looking for is actually an ancient creature that could wipe out all life on Pandora. In order to find the key for this Vault, Roland sends you out to Tundra Express to talk with his spy, who will need to be woken up with a fire weapon, so make sure you have one.
Head to Tundra Express and Roland will say that in order to wake up his spy, you'll need to ignite the Varkids so they let out a scream. This part is a little tricky, as the Larval Varkids are quite frail, so you might want to let evolve into their more powerful forms so they can take a hit or two. Also, it seems that you can't kill the Varkids and they all need to be on fire at the same time.

Their wonderful screeching screams will wake up the spy, who turns out to be Mordecai from the first game. He mentions that the Vault Key is likely on a train, so in order to get it, Roland seeks the help from another friend of his, Tina. Her hideout is in the mountain there, with the entrance being on the one side. This explosive little girl has some "fine ass womens" that she can use to help with the train situation, but they are missing their "badonkadonks."
There are two of them you need to retrieve are located in a bandit camp named Buzzard Academy on the west side of Tundra Express. As the name suggests, there will be Buzzards here, as well as some bandits. You don't need to do anything special to get either of the two missiles, as they are in plain sight. Return to Tiny Tina so she can assemble the explosives, then grab them from her when they are done.
Head to the new objective point and plant the charges, then interact with them one more time to arm them. Tina will set them off and the train tracks above you will be destroyed, essentially creating a ramp. Go up this giant ramp to see a travel point that leads to End of the Line. This area is very linear and you will encounter a bunch of Loaders until you get to an open area, triggering a boss fight.
Boss - Wilhelm
Wilhelm can certainly be a challenging boss fight, as his damage output is very high, plus there's always the potential danger of being knocked off of the cliff opposite the entrance to the area. At the start, you will notice that Wilhelm doesn't have a shield, but throughout the battle, he can spawn Surveyors to give him one, so if you see that happening, then it should be your number one priority to destroy those Surveyors.

Loaders will also spawn during the battle, including one you might have not seen yet, the PWR Loader. They have blades attached to their arms, spinning them in front, acting as a shield. The easiest way to get rid of them is to bait them into swinging at you in melee range, which will leave them open. As for attacks from Wilhelm, he will likely keep charging you at the beginning of the battle, spinning his torso around, knocking you backwards.
Not long into the fight, Wilhelm will begin performing his other attacks, including a volley of missiles, a series of eye lasers, and then an attack that has rains down grenades that explode after a short time. Considering Wilhelm is essentially a big Loader of sorts, corrosive works really well on him, as does shock if he manages to get a shield. As long as you keep moving and don't sit in one place for too long (avoid the cliff), then Wilhelm won't give too much trouble.
After finishing off the "unstoppable beast," pick up the power core from his body and return to Sanctuary. You will need to talk to Lt. Davis right outside of the city walls to turn in the mission.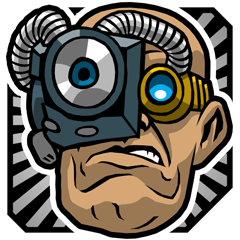 Wilhelm Screamed
Completed the mission "A Train To Catch"
20