We have a rare bit of downtime at the start of this mission. We need the arena to be prepared for us, so we're actually afforded a minute or so to twiddle our thumbs. Check the vending machines if you're desperate for something to do.
Once the grate turns green, head on into the arena.
When you enter you'll see that there is a lot of debris. We're going to have to tackle three waves and while it's completely up to you how you deal with them, it is an idea to use the platforms and buildings as cover. Pretty much every enemy here is of the ranged persuasion so you should be focused on moving around them, singling out groups and dealing with them close up before mopping up the stragglers.
Indeed the groups of enemies will engage in a spot of in-fighting, too (there are three factions), so it's in your interest to hang back at the start of each wave.
Wave 1 – Three ranged enemies. Will spawn 'around' you when in the centre, try to run 'through' the centre to put yourself out of their line of sight as soon as possible.
Wave 2 – Six enemies, spawning in three groups.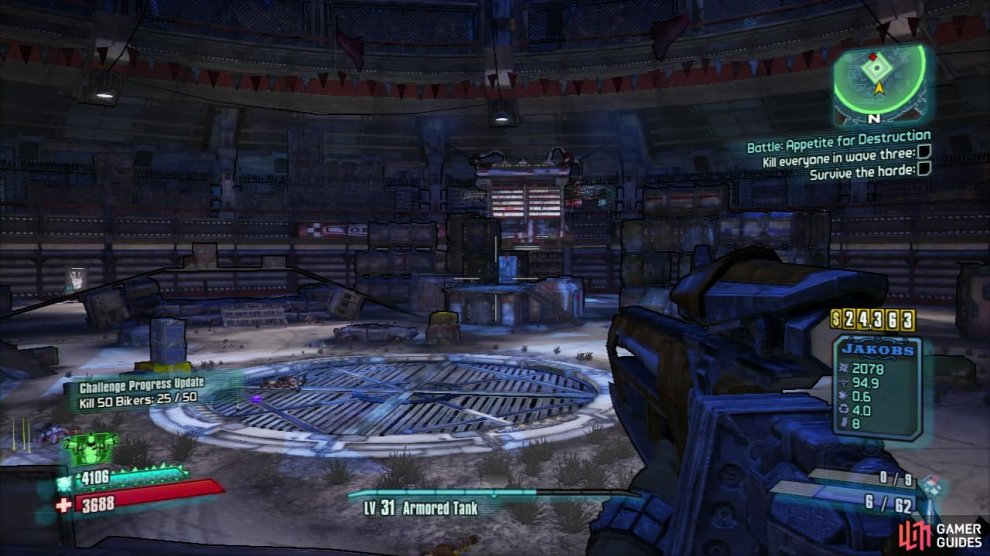 Wave 3 – Nine enemies, some Melee specialists.
Wave 4 – Twelve enemies, some larger melee fighters. Watch out for enemies sat atop the larger structures. Try and avoid their sight, or snipe them early.
If you are struggling then don't neglect how large the arena is. Skirt the edges to try and pick enemies off, one by one, and let them scrap amongst themselves as much as possible before moving in to engage them yourself.
With all four waves dealt with, the mission will end.