| | Quest Information |
| --- | --- |
| Location | Goldpaw; Near the main entrance |
| Requirements | Chapter 5 |
| Rewards | 1560 Exp, 570G, Songbook No. 31, Long Mein as Citizen |
Long Mein is a trainee guard and he is a bit over the top in his actions. Evan admires his tenacity, but Long Mein runs off. You will be able to find him on Luckless Lane on the map, which is north of the item shop. Speak with him here, only for him to run off yet again, this time to inside the casino. He'll make wild accusations again, then run off to Master Pugnacius' residence, only to be stopped by the gatekeeper outside. Talk with him here and ask him to come to Evermore, but he requires you to prove your worthiness before that.
This will require you to participate in a skirmish, which is right outside of Goldpaw. The skirmish is level 10, so you should be more than fine in taking care of the enemies, even moreso if you leveled up your troops as outlined in Sidequesting It Up and doing this sidequest after that. You'll be facing a lot of sword units in the first section, so you will want to put Yung Mein in there, as he will counter them perfectly. All of the enemy units are wyverns and they can shoot fireballs at you, but once they are set in position, they can only shoot them straight so veer off to the side to avoid them.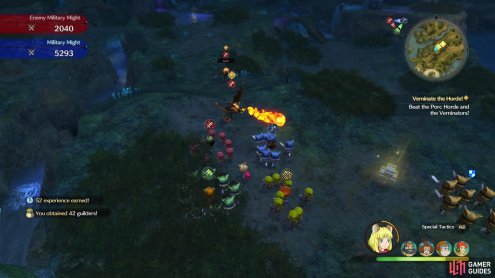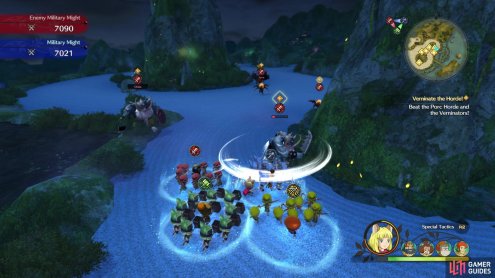 Once you've finished off the first set of enemies, you will have to venture back to the waypoint on your map, where more enemy units will spawn in the big, sandy area. All but one of the enemy units are sword users, so you will still want Yung Mein in front. The problem with this, though, is that all of the enemies will charge you, which includes the solo hammer unit (the level 10 one), so Yung Mein will get destroyed by it. If things get too overwhelming, retreat and wait for your troops to come back (use Circle). There will also be some allied reinforcements, along with some friendly cannons, so don't be afraid to lure the enemies to within their range. Return to Long Mein when you're finished to put an end to this quest.