| | Quest Information |
| --- | --- |
| Location | Evermore; Speak with Min Ti |
| Requirements | Chapter 5 |
| Rewards | 1560 Exp, 4200KG, Songbook No. 7 |
Min Ti mentions that the forces of Goldpaw want to participate in a mock battle, which will be an actual skirmish. You will find a representative east of Goldpaw and upon speaking with him, the standard will spawn. This exercise is level 14 and if you already did 031 Bandits at the Border first (leveling up, too), then this should pose no problem at all. When you begin the battle, none of the enemy troops will be on the map, so you will have to seek them out. Start by heading towards either camp to have a bunch of enemy units spawn. Two hammer units will be behind you, while the northern tent will have three units (2 sword and one other) and the southern tent will have two spears.
Remember to destroy the tents and rebuild them, as they will provide a small boost to your military might over time. When the coast is clear, make your way past the marked gate to have a few more units appear near the siege towers. These are just sword units and one ranged one, so you know to keep spear users in the front. Note that if you advance enough, a giant worm pops out of the ground. This is a Fangfish and it's considered a spear unit, but it will burrow underground and pop up near your troops to damage them. Continue straight east to find a couple more Fangfish, as well as one more when you climb the nearby hill.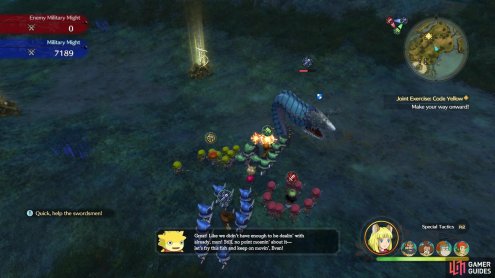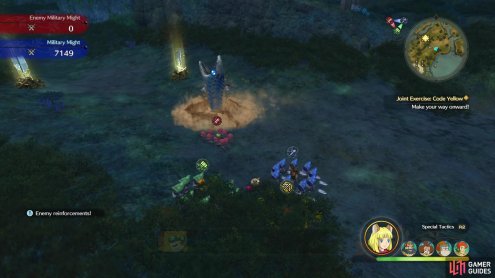 Pass through the next gate to have some more enemies show up, mostly made up of swords, but there will be two cannons as well. Dodge their fire while taking care of the soldiers, then destroy them to make it safe. A hammer unit will spawn to the southwest, along with two sword users. Continue through the next gate and more troops will appear, consisting of a mage unit, three siege towers, a hammer unit, and a sword unit. Farther west will be the final confrontation of the skirmish, where Li Da will be a platoon of two hammers and two ranged, plus there will be two Wyverns (swords). If you haven't used your Shock Tactics yet, then do it now to quickly defeat the enemy units, plus don't be afraid to use your abilities. When you've brought down Li Da, the skirmish will be over and so will the sidequest.