| | Quest Information |
| --- | --- |
| Location | Hydropolis; A little west of the inn |
| Requirements | Chapter 6 |
| Rewards | 5350 Exp, 1450G, Songbook No. 1, Nereus as Citizen |
Nereus, a former renowned singer, seems to have lost his voice thanks to some witch, who is now residing in Capaneus's Crypt on Makronos. This mini-dungeon is located far in the back, on top of the coral platforms, so you will need to do some trekking to get there. From where your boat is, head up the left path of coral platforms, then immediately cross over to the east. Continue north of the Shrine of Pining, then hang to the west a little bit and go north again. You should see a slightly obscured path to the west, which will bring you straight to Capaneus's Crypt.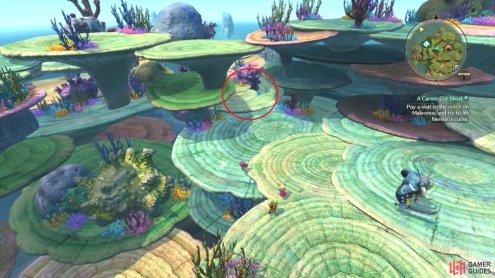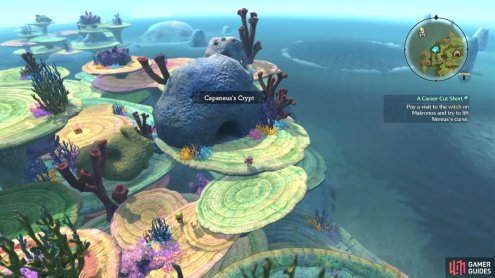 Your objective is in the southwest corner of the dungeon, so head south at the first split and you will eventually arrive at your destination. This "witch" turns out to be a Tainted Monster, level 34 Scintilla. Scintilla is a sylph-type monster, so you only have to worry about projectiles and charges. You've fought enough of these by now that they should be second nature. You'll receive 3 All-Be-Gones for defeating her, plus you can return to Nereus to finish the quest.