It seems like Bastion is back and is causing trouble for the entirety of Broadleaf. By Zip's calculations, he is on the roof of the tower, so head back to the elevator to find that it is out of commission. However, thanks to some quick thinking from Zip, he creates a stairwell that will lead you to the roof, where Bastion will be waiting.
BOSS - Bastion
Bastion is definitely a big target, making it easy to hit him, but that also means he will hurt when he hits. Bastion can stomp his foot on the ground, causing electricity to rain down around the foot; all places where the electricity will land is marked beforehand. In addition to this, he will suck in air from his chest, then spew out fire. You can easily avoid this by constantly rolling away from him, although it depends on how close you were to him in the first place. Another move is that Bastion will spew steam from the pipes on his sides, which can hit multiple times.
Should you see a weak spot (remember, this is a kingsmaker), dealing enough damage to it will cause Bastion to double over, allowing you to attack him without retaliation. At some point during the fight, Bastion will surround his body with an electric field, meaning you'll suffer small damage whenever you melee him. Another attack Bastion will add as the fight progresses are small, flying turrets, which can shoot laser beams. Destroy them (they are weak) and they'll leave behind higmakers. Gather enough of them to trigger their special attack, which will be cannons that deal some nice damage to Bastion.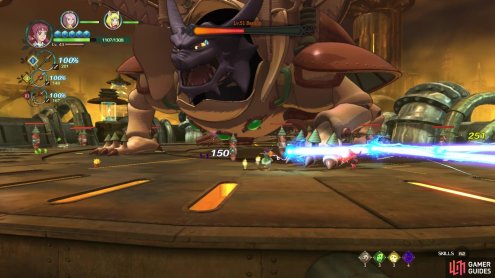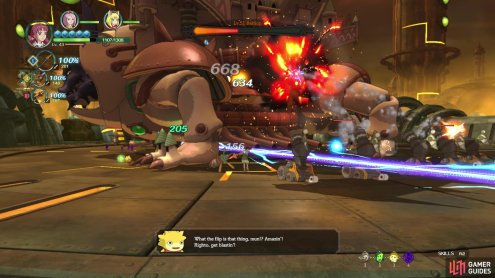 This is pretty much how the remainder of the battle will go and upon defeating Bastion, he will come back alive, with a full health bar. Well, you won't really need to do anything here but survive, so ignore your teammates and just concentrate on dodging attacks. Eventually, a cutscene will occur and Lofty will receive a bit of an upgrade. You'll be controlling just Evan for this section and just like before, attacking Bastion directly won't do anything.
Instead, some platforms will appear; if you don't see them, keeping moving around the arena. You'll need to do some platforming and as you get higher, more platforms will appear. Note that lightning will start striking the platforms, though, so keep an eye out for them as you continue your ascent. Eventually, the platforms will become three-wide and sometimes, they will disappear after jumping on them, meaning you'll have start over from the bottom. Once you do manage to get to the top, a few cutscenes will play out and you'll finally regain control.
Broadleaf Joins the Union
Once you do finally regain control, trigger the Trip Door right in front of you (Cradle of Wisdom), then speak with Zip to finally have him sign the Declaration of Interdependence. That leaves one more major party, Ding Dong Dell, which is definitely going to be a challenge, considering everything that happened earlier. At the end, Bracken will join your party permanently, and this chapter will come to a close.

The Price of Progress
Awarded for finishing Chapter 6.