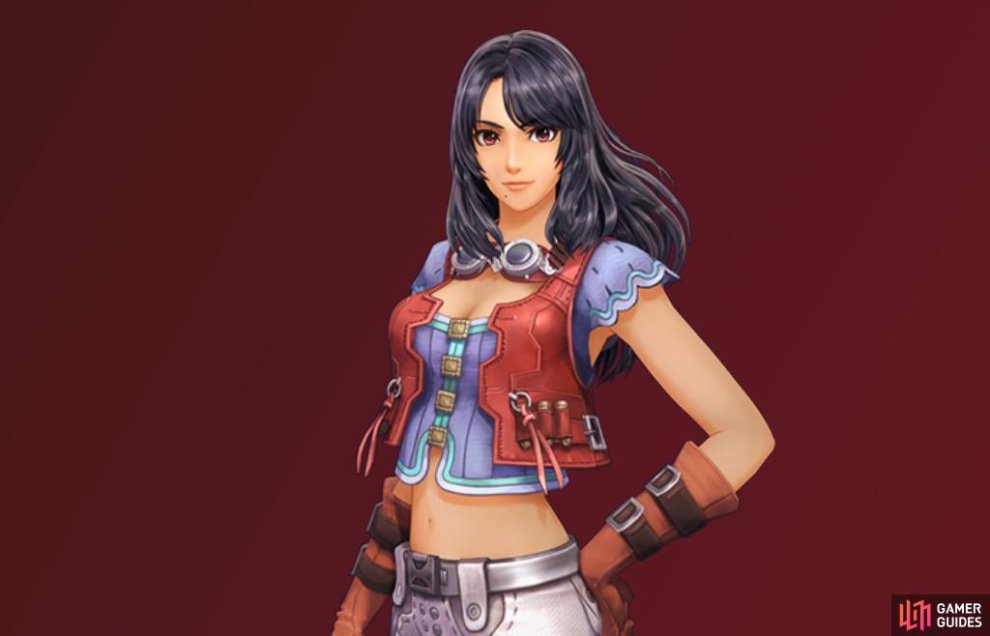 Sharla is a refugee from Colony 6, which was attacked by Mechon. She is a combat medic and has a strong, courageous heart. Her little brother, Juju, seems to be a little rash in his actions, causing Sharla to worry about him all the time. She ends up joining Shulk's team to try and find her fiance, that has gone missing since the Mechon attack. She uses a long-range ether rifle in battle.
Battle
Sharla can be considered one of the worse party members in the game, typically because she has a low damage output. Despite that, she is definitely the best healer in the game. The problem with this is that including her in your party will typically cause your damage output to lower considerably, when including another person will most likely make the enemy go down more quickly. To add on to her cons, she has poor synergy with the rest of the cast, due to her poor Chain Attack potential. She only gets a single red art, as well as only two purple arts, meaning her Chain Link potential is very poor.
To add on to that, her Talent Art is definitely the worst in the game. Unlike the other characters, who can use their Talent Arts to help out in some way during battles, Cool-Off does nothing but be a hindrance. Whenever Sharla uses any of her Arts, her Talent Art gauge will begin filling. The amount it fills depends on the Art used and should the Talent Art gauge get full, then Sharla will enter the Cool-Off state. While in this state, she cannot move, auto-attack or use any Arts, but she does regenerate some health. If you let the Cool-Off gauge fill completely, then it will take around six seconds before you. You can use Cool-Off before it becomes full, though, which will make Sharla useless for around three seconds.
Despite all of the negativity, you can definitely build Sharla out to do some damage, which mostly focus on Thunder Bullet or Head Shot. The former revolves around an Ether build, while the latter involves a Strength build. Unfortunately, these damage builds don't really come into play until late in the game, as you will probably want a Heat Sink gem on their weapon, and those are very rare (the only source for crystals comes from one of the superbosses).
Best Gifts
The following are the best gifts to give Shulk to help boost his Affinity with for other playable characters.
| # Hearts | Gift Item |
| --- | --- |
| | Love Source |
| | Sour Gooseberry, Fire Apple, Hell Raspberry |
| | Hard Lotus, Fire Pepper, Bright Fig, Spicy Nut, Kneecap Rock, Gold Dust Illusion |