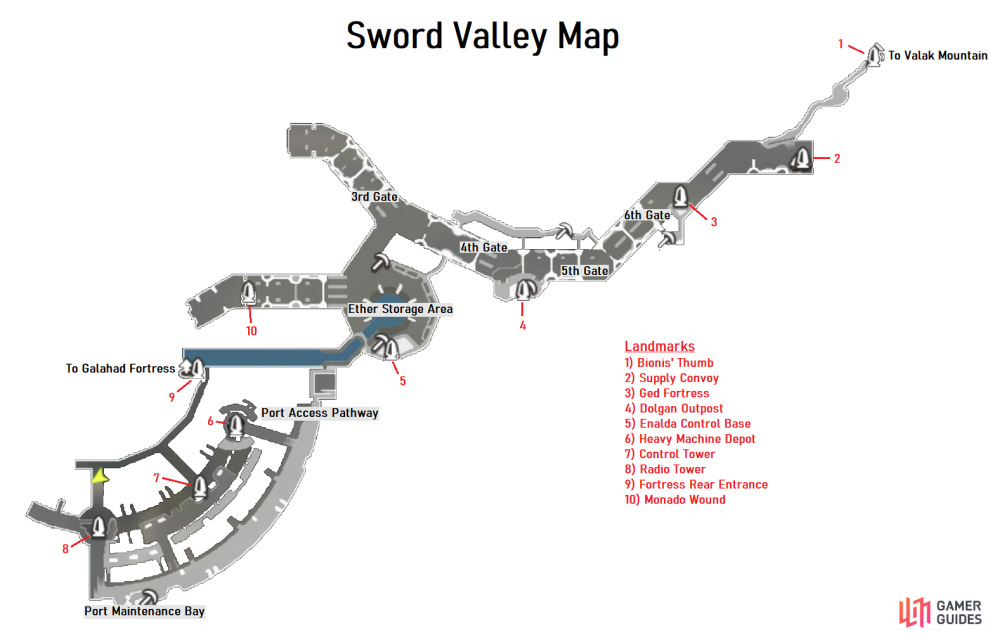 Sword Valley, aptly named because it is located on the sword the Mechonis used to attack the Bionis, is home to the battle you see at the beginning of the game. There are large gates blocking the way, but you don't necessarily have to open some of them. In order to open them, though, you will need to use a console, some of which have locks on them, requiring you to use another console to unlock the former. Note that once you clear the Mechonis Field part of the game, this area (and Galahad Fortress) become inaccessible.
Note: This place has nothing but Mechons as enemies, so either bring Shulk along or purchase Anti-Mechon weapons at the beginning of the map.
Collectopaedia
Note: The items are listed in the exact order as you input them into the Collectopaedia, so it's easy to know which one(s) you are missing.
| Category | Items | Reward |
| --- | --- | --- |
| Vegetables | Fire Pepper, Meaty Carrot, Bitter Broccoli | Good Footing III |
| Fruit | Bitter Melon, Citron Gooseberry, Juicy Melon, Amethyst Melon | HP Steal III |
| Flower | Jujube Silver, Black Blossom, Abyss Heather, Delerium Foxglove | Auto-Heal Up III |
| Parts | Gold Condenser, Purple Lamp, Crimson Gear | First Atk Plus III |
| Strange | Red Frontier, Darkness Bottle, Bud of Eternity | Arts Seal Resist III |
The reward for finishing the Collectopaedia for this area is a Cosmic Nibbler (weapon for Riki)
Landmarks
| Landmark | When Available |
| --- | --- |
| Bionis' Thumb | First Visit |
| Supply Convoy | First Visit |
| Ged Fortress | First Visit |
| Dolgan Outpost | First Visit |
| Enalda Control Base | First Visit |
| Heavy Machine Depot | First Visit |
| Control Tower | First Visit |
| Radio Tower | First Visit |
| Fortress Rear Entrance | First Visit |
| Monado Wound | First Visit |
Locations
| Location | When Available |
| --- | --- |
| 6th Gate | First Visit |
| 5th Gate | First Visit |
| 4th Gate | First Visit |
| 3rd Gate | First Visit |
| Ether Storage Area | First Visit |
| Port Maintenance Bay | First Visit |
| Port Access Pathway | First Visit |
Normal Enemies
| Enemy | Level | Location |
| --- | --- | --- |
| M34 Honey Bee Unit | 46 | Between 4th and 5th Gate; 6th Gate |
| M35 Woodpecker Unit | 48 | Port Access Pathway, Port Maintenance Bay |
| M46 Covert Killer | 46 | Dolgan Outpost, Enalda Control Base |
| M54 Armoured Unit | 47 | 3rd Gate, Between 4th and 5th Gate, Dolgan Outpost, Monado Wound |
| M54 Attack Unit | 49 | Radio Tower |
| M63 Destruction Unit | 50 | Control Tower, Port Access Pathway, Port Maintenance Bay |
| M63 Harvester Unit | 49 | 3rd Gate, Between 3rd and 4th Gates, Enalda Control Base, Ether Storage Area |
| M63X Android Unit | 48 | Between 3rd and 4th Gates, Between 4th and 5th Gates, Enalda Control Base, Ether Storage Area |
| M71 Flexible Unit | 49-50 | Near the Ether Storage Area |
| M82 Melee Unit | 50 | Between 3rd and 4th Gates, Enalda Control Base, Ether Storage Area, Port Maintenance Bay |
| M82X Melee Unit | 50-52 | Lower path between Heavy Machine Depot and Radio Tower |
| M104 Fortress Unit | 52-55 | 6th Gate, 4th Gate, Control Tower, Radio Tower |
| Offensive Mechon Plus | 49 | 3rd Gate, Between 3rd and 4th Gates/4th and 5th Gates, Control Tower, Enalda Control Base, Monado Wound, Ether Storage Area, Port Maintenance Bay |
Unique Monsters
| Unique Monster | Level | Location |
| --- | --- | --- |
| Benevolent Aim | 51 | Monado Wound |
| Defective Ipos | 50 | West side of Ether Storage Area |
| Fate Labolas | 51 | Port Maintenance Bay |
| Kamikaze Bune | 53 | North of Control Tower, on top desk of access bridge |
| Lightning Ronove | 55 | Near Radio Tower |
| Mischievious Naberius | 57 | Behind 3rd Gate |
| Prudent Purson | 49 | Dolgan Outpost |
| Tranquil Morax | 50 | Enalda Control Base |