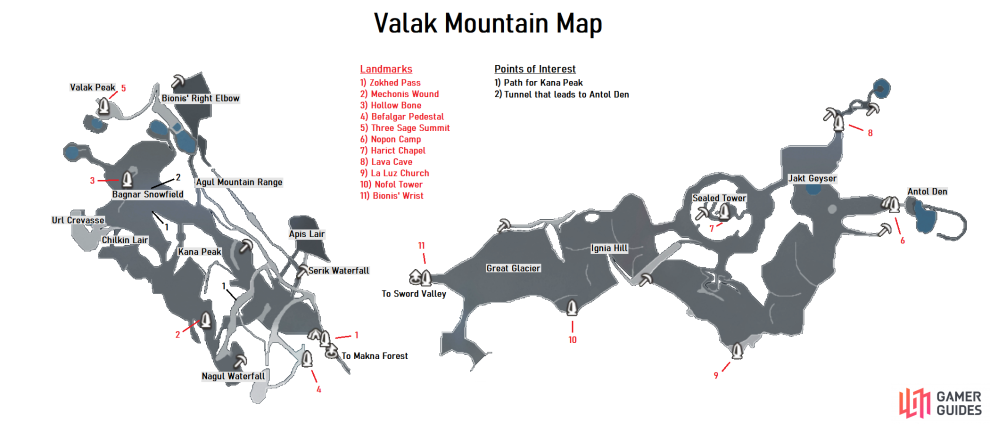 Valak Mountain is a very large area that is covered in snow, found on Bionis' right arm. Valak Mountain can be a bit of a confusing area, as there are some hoops to jump through in order to get to a few of the areas. First and foremost, some paths are blocked by chunks of ice and you will get the ability to melt those during the main story segment. There is a path near the Zokhed Pass landmark, which will eventually lead to an ice slide that should net you access to Three Sage Summit.
The other area that can be a bit hard to reach is the Antol Den. Once you have the Hollow Bone landmark, fast travel to it and there will be a cave right in front of you. This will lead to more ice slides and two jumps you need to make in order to reach the ledge with Antol Den. After the first jump, try to stick to the side when performing the second jump, as that might give you a little extra height.
Collectopaedia
Note: The items are listed in the exact order as you input them into the Collectopaedia, so it's easy to know which one(s) you are missing.
| Category | Items | Reward |
| --- | --- | --- |
| Vegetables | Sour Radish, Ice Cabbage, Girl Courgette, Amethyst Vanilla | Heavy Boots |
| Fruit | Ether Plum, Fire Apple, Ruby Mangosteen, Sour Grape | Chill Defence III |
| Flower | Fortune Mallow, Black Peony, Fatal Belladonna | Confuse Resist III |
| Animal | Wet Rat, Ice Monkey, Crystal Frog, Mud Squirrel | Aura Heal II |
| Nature | Gypsum Branch, Black Ash, Emerald Snow, Rabbit Stone, Broom Icicle | Heavy Gear |
| Strange | Frost Glass, Large Handcuffs | Chill Plus III |
The reward for finishing the Collectopaedia for this area is a Cerasus Cutlass (weapon for Dunban)
Landmarks
| Landmark | When Available | Area |
| --- | --- | --- |
| Zokhed Pass | First Visit | Upper Level |
| Mechonis Wound | First Visit | Upper Level |
| Hollow Bone | First Visit | Upper Level |
| Befalgar Pedestal (Secret) | First Visit | Upper Level |
| Three Sage Summit (Secret) | First Visit | Upper Level |
| Nopon Camp | First Visit | Lower Level |
| Harict Chapel | First Visit | Lower Level |
| Lava Cave | First Visit | Lower Level |
| La Luz Church | First Visit | Lower Level |
| Nofol Tower | First Visit | Lower Level |
| Bionis' Wrist | First Visit | Lower Level |
Locations
| Location | When Available | Area |
| --- | --- | --- |
| Serik Waterfall | First Visit | Upper Level |
| Apis Lair | First Visit | Upper Level |
| Nagul Waterfall | First Visit | Upper Level |
| Kana Peak | First Visit | Upper Level |
| Agul Mountain Range | First Visit | Upper Level |
| Chilkin Lair | First Visit | Upper Level |
| Url Crevasse | First Visit | Upper Level |
| Bagnar Snowfield | First Visit | Upper Level |
| Bionis' Right Elbow | First Visit | Upper Level |
| Valak Peak | First Visit | Upper Level |
| Antol Den | First Visit | Lower Level |
| Jakt Geyser | First Visit | Lower Level |
| Sealed Tower | First Visit | Lower Level |
| Ignia Hill | First Visit | Lower Level |
| Great Glacier | First Visit | Lower Level |
Normal Enemies
| Enemy | Level | Location |
| --- | --- | --- |
| Atomis Ansel | 45-46 | Lower level of Valak Mountain (Day) |
| Atomizek Ansel | 46 | Lower level of Valak Mountain (Night) |
| Bonterra Pod | 42 | Chilkin Lair, Antol Den |
| Bow Chilkin | 39-42 | Eastern side of Bagnar Snowfield; Url Crevasse |
| Costa Aries | 43 | Around Ignia Hill (Day) |
| Crista Apis | 42 | Apis Lair |
| Corladio Apis | 42 | Apis Lair |
| Ent Antol | 39-41 | Chilkin Lair; Around Mechonis Wound |
| Entma King | 45-47 | North/Northwest of Mechonis Wound |
| Feltl Eks | 98 | Bionis' Right Elbow |
| Fork Chilkin | 44 | Hatches from Bonterra Pods |
| Fuchsia Chilkin | 43 | Near La Luz Church/Url Crevasse, Around northern part of Bagnar Snowfield |
| Gloria Slobos | 99 | Three Sage Summit (Night) |
| Glory Slobos | 97 | Three Sage Summit (Day) |
| Hista Aries | 44 | Around Ignia Hill (Night) |
| Krawla Slobos | 45 | Around Nofol Tower (Night) |
| Krawli Slobos | 46 | Around Nofol Tower (Day) |
| Latio Apis | 41 | Apis Lair |
| Lophos Moramora | 44 | Near Zokhed Pass and Nagul Waterfall; Around Mechonis Wound (Night) |
| Monta Moramora | 43 | Near Zokhed Pass and Nagul Waterfall; Around Mechonis Wound (Day) |
| Noto Feris | 44 | Lava Cave |
| Poleaxe Chilkin | 41-44 | North of Bagnar Snowfield; Url Crevasse |
| Porcu Hox | 43 | Lava Cave |
| Reef Nebula | 43 | Commonplace (Nofol Tower, along with Vague Barbas, etc) |
| Sesna Lexos | 47 | Around Bagnar Snowfield (Day) |
| Setor Eks | 94-96 | Bionis' Right Elbow |
| Sierra Vang | 42-43 | Chilkin Lair, Lava Cave |
| Snowal Taos | 48 | North/Northeast of La Luz Church (Night) |
| Snowi Taos | 47 | North/Northeast of La Luz Church (Day) |
| Sparas Pagul | 40-42 | Nagul Waterfall; North of Nofol Tower |
| Teterra Pod | 40 | Chilkin Lair |
| Ucan Nebula | 45 | Lava Cave |
| Zefa Ories | 44 | Ignia Hill (Day) |
| Zegia Ories | 45 | Ignia Hill (Night) |
Unique Monsters
| Unique Monster | Level | Location |
| --- | --- | --- |
| Agile Barbatos | 47 | Northern end of Ignia Hill |
| Avalanche Abaasy* | 120 | Three Sage Summit (Night; Blizzard) |
| Banquet Vassago | 48 | Antol Den (during The Balance of Power quest) |
| Barbaric Sitri | 47 | Antol Den |
| Blizzard Belgazas* | 114 | Great Glacier |
| Conflagrant Raxeal | 45 | Lava Cave (during story quest) |
| Exposure Wolfol | 97 | Lava Cave (after completing story quest) |
| Final Marcus | 100 | Three Sage Summit (Night, Clear/Snowing) |
| Glorious Buer | 45 | South of Sealed Tower |
| Hidden Gamigin | 49 | On large bridge southeast of Ignia Hill marker (Night) |
| Moonlight Paimon | 46 | Lava Cave |
| North Star Gusion | 50 | Url Crevasse (Night, Snow/Blizzard) |
| Vague Barbas | 46 | Large area southwest of Befalgar Pedestal |
| Wandering Amon | 98 | Bionis' Right Elbow (Night) |
Both Avalanche Abaasy and Blizzard Belgazas only spawn after the events at Mechonis Core