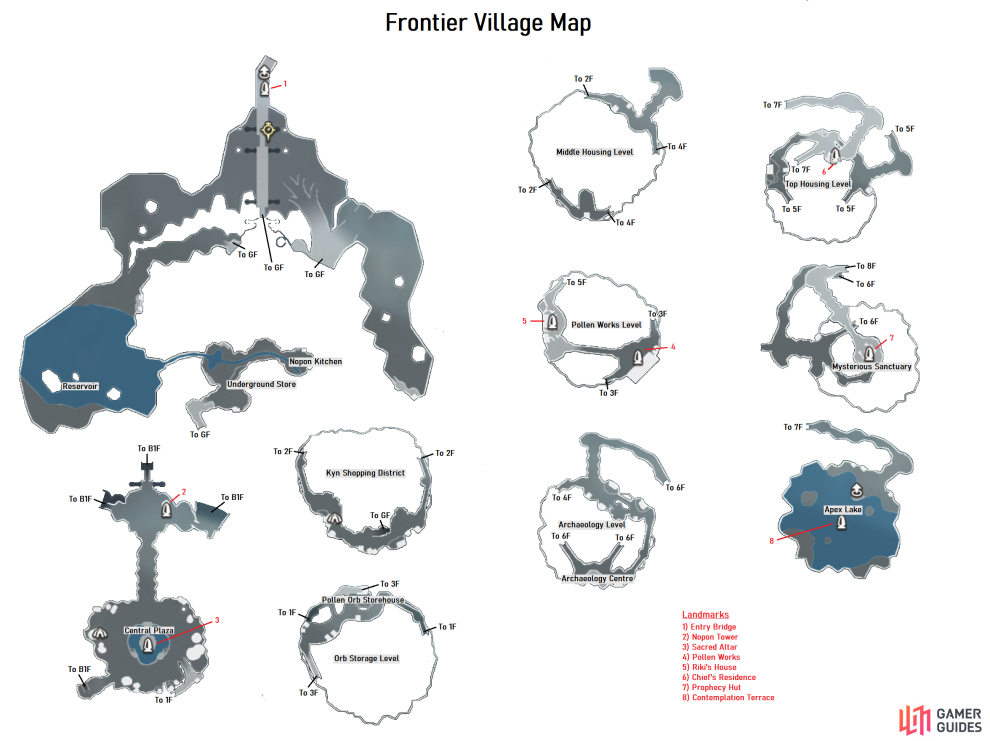 Frontier Village is the home to the Nopon race in Xenoblade Chronicles, and is set inside of a very large tree. You will find this place in the middle of the Makna Forest, and Frontier Village is home to the most quests in the game. It might be possible to get lost a bit, considering there are so many floors to this place, but it is rather linear.
Collectopaedia
Note: The items are listed in the exact order as you input them into the Collectopaedia, so it's easy to know which one(s) you are missing.
| Category | Items | Reward |
| --- | --- | --- |
| Fruit | Spicy Nut, Crimson Citrus | Strength Up III |
| Bug | Rainbow Bug, Empress Beetle | Weapon Power II |
| Strange | Rumble Box, Black Panel | Agility Up III |
The reward for finishing the Collectopaedia for this area is a Half-Bloom Striker (a sword for Dunban).
Landmarks
| Landmark | When Available | Area |
| --- | --- | --- |
| Entry Bridge | First Visit | B1F |
| Nopon Tower | First Visit | GF |
| Sacred Altar | First Visit | GF |
| Pollen Works | First Visit | 4F |
| Riki's House | First Visit | 4F |
| Chief's Residence | First Visit | 6F |
| Prophecy Hut | First Visit | 7F |
| Contemplation Terrace | First Visit | 8F |
Locations
| Location | When Available | Area |
| --- | --- | --- |
| Nopon Kitchen | First Visit | B1F |
| Underground Store | First Visit | B1F |
| Reservoir | First Visit | B1F |
| Central Plaza | First Visit | GF |
| Kyn Shopping District | First Visit | 1F |
| Pollen Orb Storehouse | First Visit | 2F |
| Orb Storage Level | First Visit | 2F |
| Middle Housing Level | First Visit | 3F |
| Pollen Works Level | First Visit | 4F |
| Archaeology Level | First Visit | 5F |
| Archaeology Centre | First Visit | 5F |
| Top Housing Level | First Visit | 6F |
| Mysterious Sanctuary | First Visit | 7F |
| Apex Lake | First Visit | 8F |