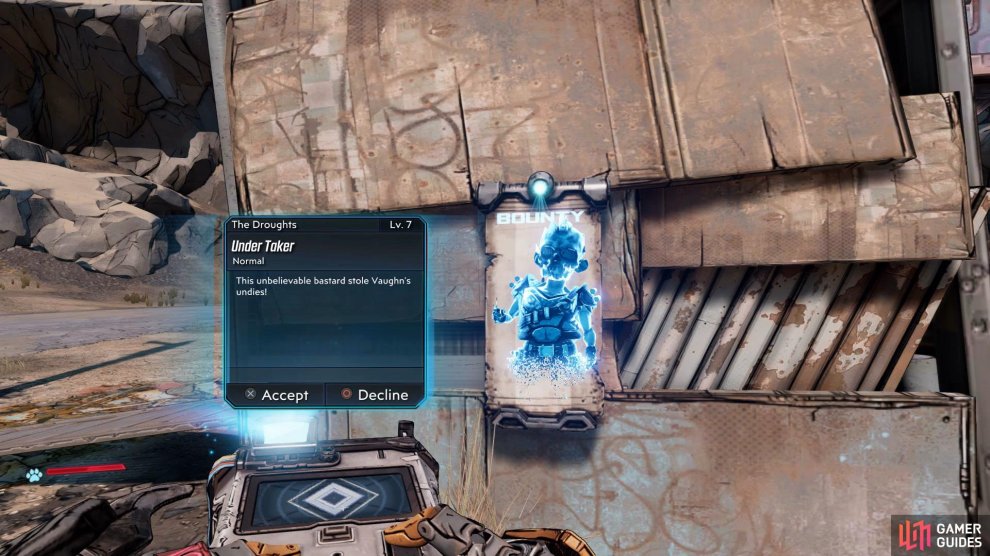 | Quest Giver | Reward | Lvl |
| --- | --- | --- |
| Bounty Board - The Droughts | Cash, Rare Assault Rifle | 7 |
Find Under Taker / Kill Under Taker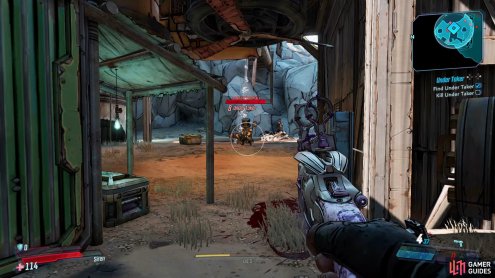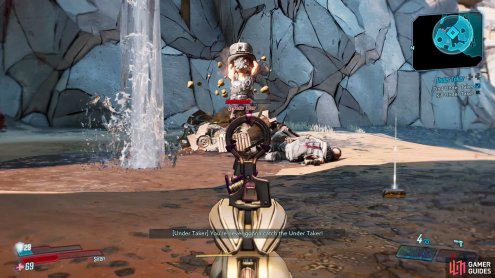 This Side Misson will come available during the Cult Following main mission. Collect the Side Mission from the Bounty Board near where you killed Sid in the Bad Reception Side Mission, now make your way over to the waypoint on the map where a bunch of enemies will be waiting for you.
Tip: As you approach the Road to Ascension to locate the Under Taker, keep a lookout for a Loot Tink roaming the area and focus all your damage towards it. They will despawn if you dont take them out quickly and they have a chance to drop some Legendary loot.
Once you arrive, take out the turret that's locking on to you at the back of their base, and kill all the enemies in the area to cause the Under Taker to spawn. During your fight with the Under Taker he'll make a run towards where you destroyed the turret at the beginning and burrow himself in the ground to spawn another one.
The Under Taker as chance to drop the [Speedloadn' Hellwalker] which is an amazing Legendary Shotgun to have equipped at this stage of the game. Unfortunately the Shotgun isn't a guaranteed drop, but don't worry as there will be opportunities for it to drop at a later point in the game.