Hunting Requests are exactly as they sound, in that, they are specific animals you will need to hunt. There's a total of five of them in the game, all of which are needed for the in-game 100%, but you can only do four of them before finishing the main story. You start these by finding various posters in the post offices around the map, and you can begin them as early as Chapter 2. They are all focused around small game and you will be required to bring back perfect carcasses of the animals on the list.
Because of that stipulation, you will want to hunt down the pristine animals. You can view this info by either pressing R1/RB whenever you have a previously studied animal in your sights, or by looking at the stars next to their name in the bottom right corner (only available after studying the animal type once). You will also need the appropriate weapon, either the bow with Small Game Arrows or the Varmint Rifle, as those will be the two most used for these requests. Remember that you need the whole animal and not just the skin. In fact, you shouldn't even skin or pluck anything from the animals. If done right, you will receive a notification that the animal will count towards the current request.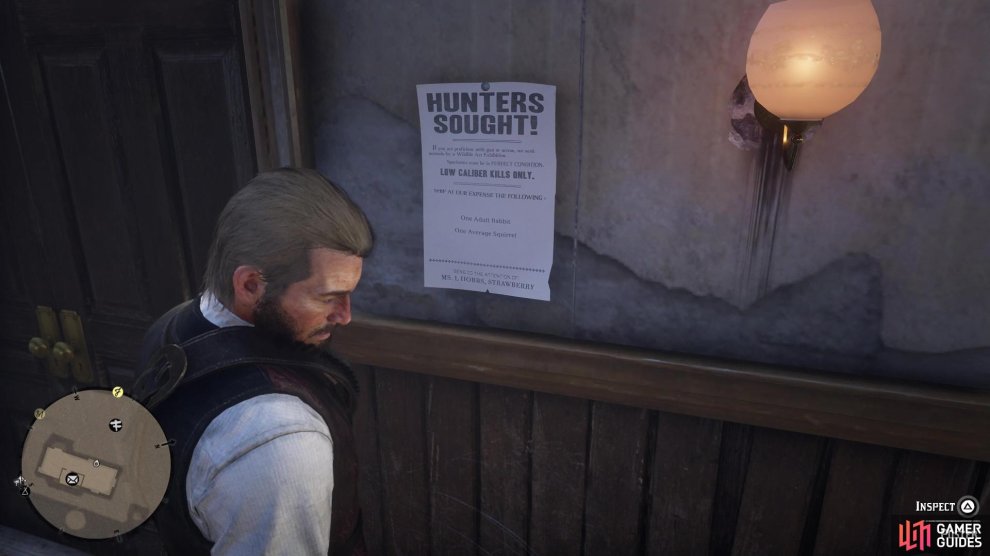 The Varmint Rifle can be purchased from any gunsmith, while Small Game Arrows have to be crafted at a campfire. The animal must be killed in one hit, as hitting it multiple times will damage the carcass and it won't be perfect. All you need to do to begin this little side activity is find one of the posters in the post office in any of the towns in the game. As an example, inside of Valentine's post office is the poster on the wall. Once you've gotten one, the first request will begin and upon fulfilling the conditions, then you will need to mail them via any post office. After you do that, wait a few in-game days, then return to the post office for a reward; the next request will automatically begin after retrieving your reward.
The game will ask you for a squirrel carcass, as well as an adult rabbit carcass, for your first request. Luckily for you, both can be found pretty close to Horseshoe Overlook, your base from Chapter 2.
Important: It's a good idea to not have a carcass from a future request in your inventory whenever you get a new list, as this has been known to cause some problems.
Tip: It is possible to get perfect carcasses from a two-star or even a one-star animal, so for those harder to find ones, kill everything.
Tip: If you can't get an animal to spawn, set up camp and advance time by sleeping. This should spawn a different set of animals in the area. Also, making a manual save and reloading will do the same thing.
Tip: All of the animals for the requests will go after Herbivore Bait, so make sure you purchase some from either the trapper or general store. Note that this doesn't make new animals spawn, but attract those that are already present.
Squirrel Carcass
The squirrel is probably the more problematic of the two, simply due to it being relatively hard to see when you're roaming. You can find some southwest of Flatneck Station, which is south of Horseshoe Overlook. There are a few different kinds that can appear, but it doesn't matter which one you go after. You can use either the Varmint Rifle or Small Game Arrows.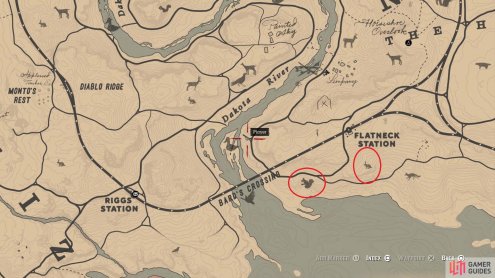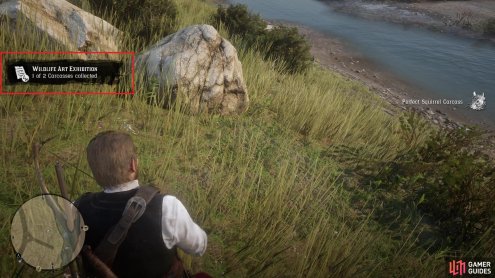 Adult Rabbit Carcass
Rabbits are amongst some of the most common animals in the game, as you will see them jetting across roads while riding from one place to another. While you could ride around and hope for the best, you should be able to find some rabbits south of Flatneck Station, which is close to your Chapter 2 camp. Note that the rabbit will go on the side of your horse, so get this one second for fear of it decomposing.